Alabama Middle District Former Clerk of Court, Jane P. Gordon, Passes Away
Image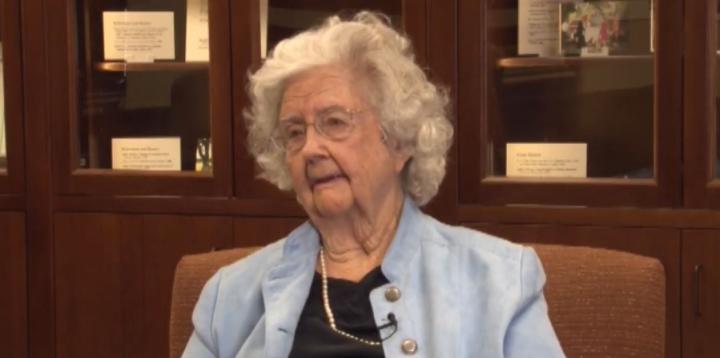 The Alabama Middle District is saddened to share the news of Jane P. Gordon's passing. Mrs. Gordon died on June 7, 2022.
Born in River Falls, Alabama in 1923, Mrs. Gordon moved with her family to Red Level, and later moved to the University of Alabama in Tuscaloosa for college. There she met and married Algernon Pope Gordon; they moved to Montgomery together, and in 1971 Mrs. Gordon was appointed Clerk of Court for the United States District Court for the Middle District of Alabama.
Mrs. Gordon's service, which coincided with a great many important cases in the Middle District, bears the distinction of also being that of the first woman to be Clerk of Court for the Alabama Middle District. She retired in 1983.
United States District Judge Myron H. Thompson recently reflected on the exemplary tenure of Mrs. Gordon. Judge Thompson noted, " Mrs. Gordon, as Clerk of Court, was the face of the United States District Court for the Middle District of Alabama for many years. She was often the first person lawyers and litigants met when they visited the courthouse. And notably, she was the clerk during a time when this Court was a focal point of many of the most troubling social issues of the times in this State, and even this Nation, as a result of the many historic decisions rendered by Judge Frank M. Johnson Jr. No doubt, when he appointed her, Judge Johnson saw in her a  person of the highest capability and integrity. She lived up to his expectations 100%."
A family and friends' visitation will be held at Leak Memory on June 22 at 9:00AM, followed by a graveside service at 10:00AM in Greenwood Cemetery. Memorial contributions may be made to First Baptist Church Community Ministries, at 305 South Perry Street, Montgomery 36104.
The judges of the Alabama Middle District in coordination with leadership at the United States General Services Administration  (GSA) will honor Mrs. Gordon by flying the flags at the Frank M. Johnson, Jr Courthouse in Montgomery, Alabama, at half-mast on the day of her interment, June 22, 2022. 
ALMD Profiles: An Oral History of Jane P. Gordon, former Clerk of Court
Mrs. Jane Carol Paget Gordon's Obituary.