Tracie Melvin, Managing Attorney of Legal Services Alabama, Retires
Image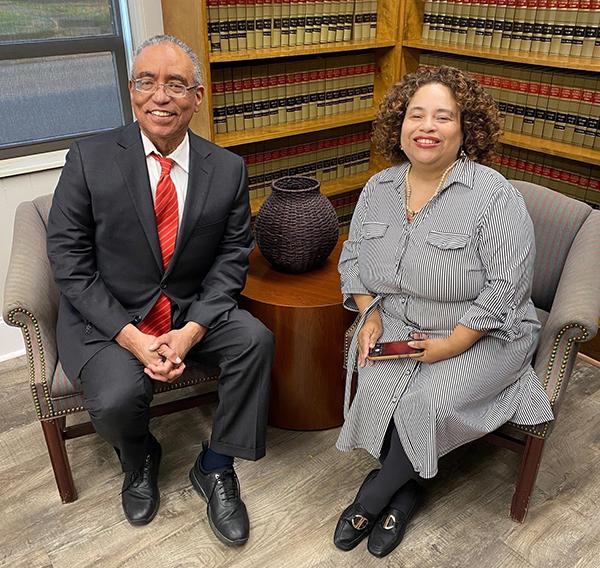 Judge Myron Thompson traveled to Dothan recently to congratulate Tracie Melvin on her more than seventeen years of service and leadership at Legal Services Alabama, one of the preeminent legal-aid organizations in the country.  Ms. Melvin, whose last day as managing attorney of the Dothan office was in March, spent nearly her entire career providing civil legal aid for low-income Alabamians.
On February 28, Judge Thompson and his law clerks visited the Dothan branch of Legal Services Alabama to recognize Ms. Melvin's tireless advocacy.  "People don't know what a tremendous job you do, or how much work you do," he told the attorneys at LSA.  "I want to convey my pride for all you have accomplished–and to personally congratulate Tracie on her retirement."
Legal Services Alabama provides legal aid to low-income individuals with a wide variety of needs, including mortgage counseling, wills and simple estate planning, and support in the face of domestic violence and eviction.  The Dothan office, which assists Alabamians from seven counties, is staffed by managing attorney Rachelle Greczyn, staff attorney Kristy Kirkland, and administrative assistant Angela Newton.
"People think access to justice is just about capital crimes," Ms. Kirkland said.  "But it's also about missing one loan payment--one missed payment and being put out on the streets."
"We're so proud and honored that Judge Thompson would visit Legal Services to recognize our outgoing managing attorney," Ms. Kirkland added.  "Tracie has dedicated her life to this organization."
Ms. Melvin and Judge Thompson both have deep roots in Dothan.  Ms. Melvin, who was born and raised in Dothan, was the first Black valedictorian at Dothan High School.  She moved out of state for college and law school but returned to Dothan in 2004 to care for her ailing grandmother–and, shortly thereafter, began her work at LSA.
"I think God's plan was always for me to come back to Dothan and serve the community," she told The Dothan Eagle in 2013.
Judge Thompson, who began his private practice in Dothan after graduating from Yale Law School, was integral to the expansion of civil legal aid for low-income Alabamians.  In 1997, Judge Thompson became a founding director and board chair of the Alabama Legal Services Corporation.
The organization merged with Legal Services of Metro Birmingham and Legal Services of North-Central Alabama in 2004, forming the statewide program now known as Legal Services Alabama.
Earlier this year, as part of the celebration of Ms. Melvin's career and legacy, the LSA Dothan office dedicated its conference room in her honor.