Minority Pre-Law Conference Returns to the Alabama Middle District
Image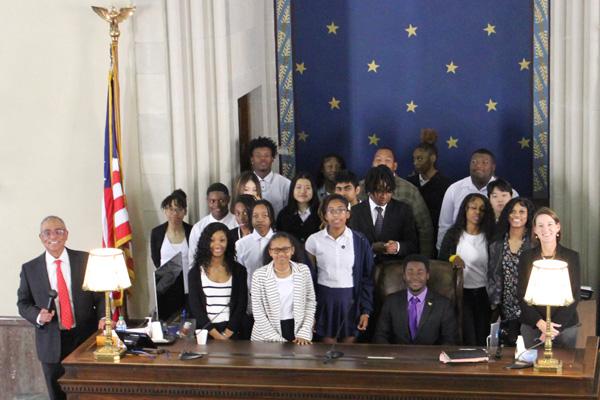 On Thursday, April 20, 2023, the annual Minority Pre-Law Conference returned to Courtroom 2FMJ at the Frank M. Johnson Jr. Courthouse.
The event, organized by the Young Lawyers Section of the Alabama State Bar, allows minority high school students the opportunity to obtain valuable information about pursing a legal career.  Students receive information regarding the requirements for gaining admission to law school, listen to panel discussions on the various careers available to persons with a juris doctorate, watch a mock trial and get advice from attorneys in a small group session and network with students who have similar ambitions.
The conference began with opening remarks from Chief United States District Judge Emily C. Marks followed by United Stated District Judge Myron H. Thompson.  During her remarks, Chief Judge Marks encouraged the students to consider the legal profession as a career choice, "The good thing about the legal profession is that there is something for everyone, whatever interest you have in particular, you can find a place in the legal profession that would meet your desires."  Judge Thompson also encouraged the students to consider obtaining a law degree, "The law is one area where you can literally do just about anything you want."  Additionally, Judge Thompson provided an overview of the federal judicial system, described his duties as a federal judge and answered questions from the students.
Next, students watched video segments from a mock trial competition.  After each segment, Executive Committee members of the Young Lawyers Section, Miland Simpler, Gavin King, and Chenelle Smith, explained the purpose and objectives of what was just viewed.  At the conclusion of the mock trial discussion, students heard from Montgomery County Probate Judge J.C. Love, III who explained his role as Probate Judge and the importance of diversity in the legal profession.
The Minority Pre-Law Conference is held annually in Montgomery, Mobile, Birmingham, and Huntsville.  "Our goal is to put on an event that gives high school students an opportunity to hear directly from local attorneys and judges about the practice of law, the educational process of becoming a lawyer, and the wide array of career opportunities available in the legal community," said Attorney Simpler.  "This was our first year back to an in-person event since 2019, and we were excited not only to be back in-person, but to hold our event in, as Judge Thompson put it, one of the most historically significant courtrooms in the country."