Johnson Institute Hosts Humphrey Distinguished Fellows
Image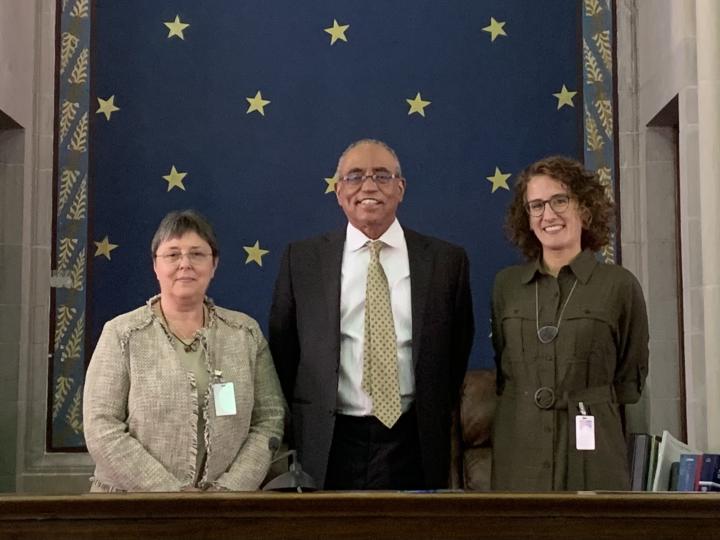 The Judge Frank M. Johnson, Jr. Institute recently hosted two Hubert H. Humphrey Distinguished Fellows during their visit to Montgomery for a tour of the Frank Johnson Courthouse.
During the visit, the fellows, Ana Carolina Evangelista of Brazil and Elisabeth Sándor-Szalay of Hungary, joined the U.S. District Judge Myron Thompson, law clerks, and Johnson Institute staff for lunch and a wide-ranging discussion of their countries.
"Meeting like this really makes people realize that we should compare each other's legal practice and our views on legal interpretation more often, and exchange ideas..." said Dr. Sándor-Szalay afterward.
Dr. Sándor-Szalay is Ombudsperson (Hungarian NHRI) responsible for the protection of national/ethnic minorities living in Hungary. Ms. Evangelista is a senior researcher and the executive director of the Institute of Religious Studies in Brazil, the main Brazilian organization dedicated to study religion and its relations to politics.
The Humphrey Distinguished Fellowship Program "offers executive and leadership development opportunities for senior-level professionals. This rigorous, short-term, invitation-only program is designed to strengthen abilities to develop sound policies and programs around critical global issues. Through executive training and strategic engagement with U.S. organizations, this program provides a foundation for productive ties between Americans and their professional counterparts overseas."
---