Faulkner Law Groups visit the Alabama Middle District
Image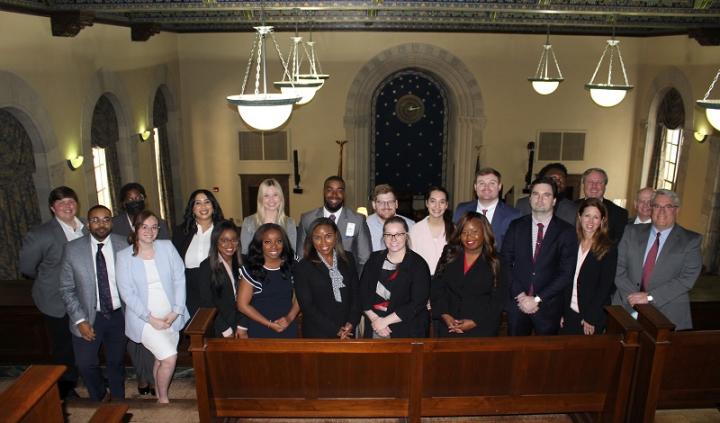 On Friday, March 25th, the Alabama Middle District welcomed members of the Black Law Student Association, Board of Advocates, professors, faculty, and Dean Charles B. Campbell of Faulkner Law. Faulkner Law School is located in Montgomery, Alabama.
The Faulkner Law group joined Senior District Judge Myron H. Thompson on the balcony of the Frank M. Johnson Courtroom for lunch and a discussion about their law school studies and the history of the courtroom. Judge Thompson commended the Board of Advocates for their diligence to learn the necessary skills of advocacy and encouraged them to continue to be passionate.
They also discussed the namesake of the Black Law Student Association's chapter, Ernestine S. Sapp. Judge Thompson shared some personal stories that included Ernestine Sapp and described her as a fierce advocate for justice. He also detailed some of his personal experiences as a practicing attorney and provided students with some advice regarding bar preparation and the start of their legal careers.
Christopher Middleton, law clerk for Judge Thompson, gave some insight on the role that kindness has played in his pursuit of becoming a lawyer. He also challenged the law students to work intuitively on their writing as it would be a large aspect of their career.
After the balcony talk, students were able to observe a sentencing hearing taking place in the Frank M. Johnson Courtroom in a case that Judge Thompson presided.