ALMD to Host POWER Act Seminar
Image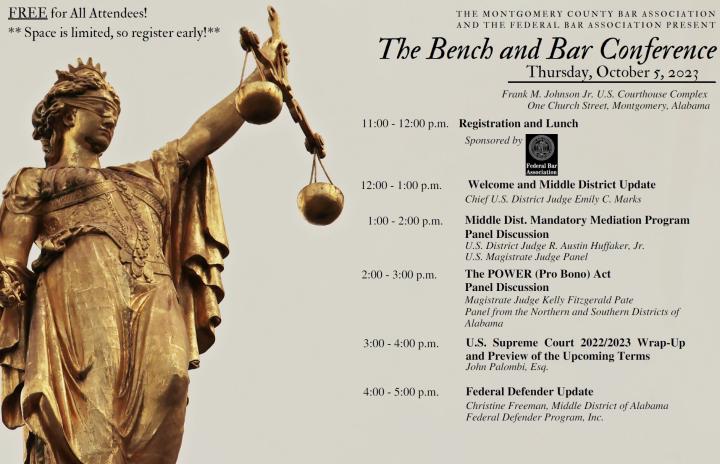 The United States District Court for the Middle District of Alabama will partner with the Federal Bar Association and the Montgomery County Bar Association to host the 2023 Bench & Bar Conference on Thursday, October 5th and Friday, October 6th.
The Thursday, October 5th session will be conducted at the Frank M. Johnson, Jr. U.S. Courthouse Complex in Montgomery.  A remote component will be available for this session.
Prior to the Conference, the Alabama Middle District will conduct a workshop on Pro Se Matters with a special focus on the Pro Bono Work to Empower and Represent Act of 2018 (POWER Act). The workshop will be at 2:00 PM on Thursday, September 28th and will be conducted by Zoom.
The POWER Act (P. L. 115-237) was passed by Congress on September 4, 2018. The primary goal of the POWER Act is for the U.S. district courts to partner with a local, tribal, or territorial domestic abuse service provider and a local volunteer lawyer project to promote pro bono legal services as a way to empower survivors of domestic violence, sexual assault, and stalking, and to engage citizens in assisting those survivors.